Product Summary
The LM343H is a 3-channel linear current controller combined with a boost switching controller ideal for driving LED back-light panels in space critical applications. The LM343H drives 3 external NPN transistors or MOSFETs to deliver high accuracy constant current to 3 LED strings. Output current is adjustable to drive strings in excess of 200 mA. The applications of the LM343H are Automotive Infotainment Displays, Small to Medium Format Displays.
Parametrics
LM343H absolute maximum ratings: (1)Voltages from the indicated pins to SGND: VIN:-0.3V to 37V, EN:-0.3V to 10V, DIM:-0.3V to 7V, MODE/F:-0.3V to 7V, REFIN:-0.3V to 7V, THM:-0.3V to 7V, DLY:-0.3V to 7V, SNSx:-0.3V to 7V, NDRVx:-0.3V to 7V, CFB:-0.3V to 7V, SC:-0.3V to 40V, AFB:-0.3V to 7V, CS:-0.3V to 7V, VCC:-0.3V to 7V; (2)Storage Temperature -65℃ to +150℃; (3)ESD Rating: Human Body Model:2 kV.
Features
LM343H features: (1)LM3431Q/LM3431AQ are Automotive Grade products that are AEC-Q100 grade 1 qualified (-40℃ to 125℃ operating junction temperature); (2)3-channel programmable LED current; (3)High accuracy linear current regulation; (4)Analog and digital PWM dimming control; (5)Up to 25kHz dimming frequency; (6)>100:1 contrast ratio; (7)Integrated Boost controller; (8)5V to 36V input voltage range; (9)Adjustable switching frequency up to 1MHz; (10)LED short and open protection; (11)Selectable fault shutdown or automatic restart; (12)Programmable fault delay; (13)Programmable cycle by cycle current limit; (14)Output Over Voltage Protection; (15)No Audible Noise; (16)Enable pin; (17)LED Over-Temperature shutdown input; (18)Thermal Shutdown; (19)TSSOP-28 exposed pad package.
Diagrams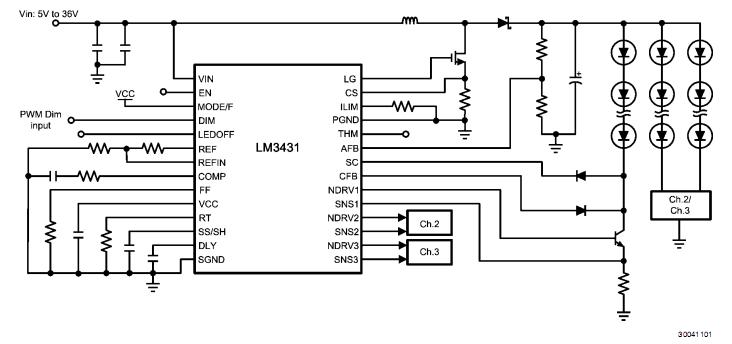 LM34

Other



Data Sheet

Negotiable

LM340

Other



Data Sheet

Negotiable

LM3401EVAL



BOARD EVALUATION FOR LM3401

Data Sheet



LM3401EVAL/NOPB

National Semiconductor (TI)

LED Lighting Development Tools LM3401 EVAL BOARD

Data Sheet



LM3401MM/NOPB

National Semiconductor (TI)

LED Lighting Drivers HYSTERETIC PFET CONTROLLER

Data Sheet



| | |
| --- | --- |
| 0-1: | $0.94 |
| 1-10: | $0.85 |
| 10-25: | $0.76 |
| 25-100: | $0.51 |


LM3401MMX/NOPB

National Semiconductor (TI)

LED Lighting Drivers

Data Sheet



| | |
| --- | --- |
| 0-1: | $0.94 |
| 1-10: | $0.85 |
| 10-25: | $0.76 |
| 25-100: | $0.51 |